Those times, when ceramic tiles were considered a material that was strictly dedicated for bathrooms and hallways, are becoming a thing of the past. Today, they're entering living rooms with gusto, becoming a synonym for elegance while perfectly harmonizing with any kind of finish in the bedroom.
A while back it used to be… All fluff and pastels. Shag carpets, excess of pillows, heavy curtains – bedrooms of the past decades were immersed in infinite softness. The bedroom should be cozy, and cozy means fluffy. And ceramic tiles in the bedroom? Not so much.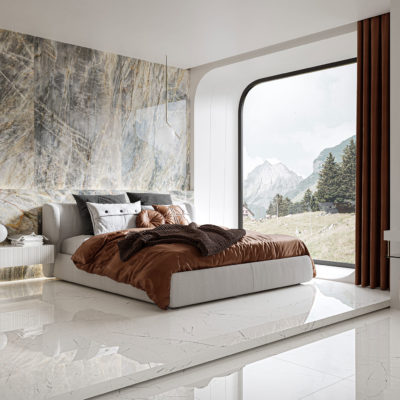 And then minimalism made its introduction and redefined how contemporary designs perceive leisure and relaxation. It swapped "more" for "less", without losing the intimate, warm character. Tiles became the foundation of designs. And in response to the many questions on: what about the bedroom wall? And how should the bedroom be decorated? The answers more often than not were: ceramic tiles.
Cold as tile? Nothing could be further from the truth
This extraordinary material takes design options to a whole new level. And we're not just talking about wood-like tiles, which have already made their debut in contemporary interiors many years ago, but about tiles that bring to mind the beauty of stone – and not necessarily in shades of gray, even though traditionalists will also be able to find something here to fit their aesthetic. Bedroom, kitchen, bathroom? The place doesn't matter. Ceramic tiles by Cerrad x La Mania Home show a completely new face of gres. Filled with colors and energy.
The not so obvious browns and beiges
Although they have been working perfectly in bedrooms for years now, left to their own devices, they can seem void of character and modern elegance. This is where the Brazilian Quartzite ceramic tiles comes in. They seem to combine two different worlds – that of energy and that of relaxation, taking us to the golden beaches of Brazil, where time happens to go by very differently. And such a duo is a perfect combination for a bedroom.
Our approach to using Brazilian Quartzite in the domain of relaxation? Behind the headboard, Amber shade on the wall, a light Marmo Thassos floor, and accessories in shades of coco or chocolate…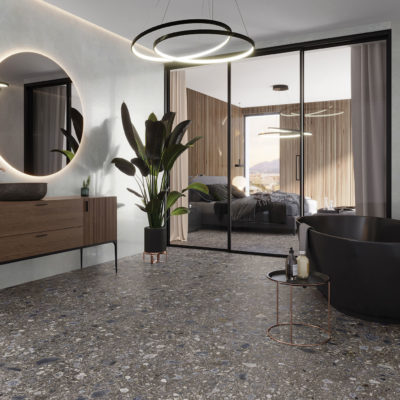 Sometimes in blue, sometimes in gray …
Blue in the bedroom? Of course! And what if the deep sky and azure waves make their appearance on the wall? Impossible? Not with Brazilian Quartzite in the shade of Blue. Like moments of leisure filled with relaxation and laid-back reflection by the sea … The Blue collection soothes the nerves, and that's extremely important in the bedroom, isn't it?
There is no need to be afraid of the 'ceramic tile in the bedroom' solution, even if only for the functionality of it all. They will be appreciated by anyone whose imagination of interiors led them to the extremely fashionable bedroom + bathroom combination. The three shades of the Ceppo Nuovo collection – Silver, Graphite and Black, have been enriched with a stone print that seems to be sunken in under a pane of glass. Full of class and refinement, but not void of energy and temperament – bedroom design end result depends on choice of collection. 
Are you free of doubts now, that ceramic tiles in the bedroom hit the bullseye?